Thank you for requesting the Overcome Overwhelm Toolkit.

You're only a step away from feeling more relaxed and in-charge of your life.

Step 1.
Download the Overcome Overwhelm Toolkit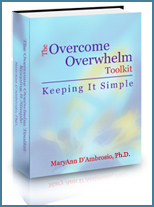 Simply click on the "Overcome Overwhelm Toolkit" link or graphic above, and use the "Save As" feature of your browser to save the file to your computer.
You will need the free Adobe Reader software to open and read the toolkit which you may get directly from Adobe at: http://get.adobe.com/reader/
Step 2.
Comment below, Speak Your Mind . . .
What's your biggest frustration about overwhelm?
Step 3.
Looking to quickly reset your day and provide instant energy shifts that bring you back to center? Get my super special tool . . . e-Flashcards for the Soul™