Animals provide tremendous insight into everyday living.  In the spirit of sharing wisdom from a "best friend" perspective…this guest post is by My Best Friend's Dog, Lily.  
Yup, you read that right.  Lily is a DOG… and she consistently Delivers Observable Goodness in her petite Bichon-Shiatzu frame. Lily is smart, sensitive, sometimes sassy and a super hero of sorts.
Lily's Full Disclosure
"This is new for me – a bit of a stretch – to share personal thoughts and experiences in human speak. I'm excited to take the leap and give it my best. With that…let's get started."
Showing up matters – being authentic…
For some reason people make such a fuss when I'm out and about town. They stop, point, start oohing, ahhing and then the cameras come out. I'm not kidding!  You'd think I was a rock star on tour.  Shutters start clicking while I'm at the bank, relaxing on the beach, letting the wind blew through my hair, blissing out on my favorite chair, and even waking up in the morning. (You'll see some photographic evidence.)

What's up with all this attention?  Quite honestly its become a way of life for me and on most occasions I simply remind myself to stay present and be "me"…no need to play it up for the paparazzi.  The way I figure it, I'm here to live my best life and when I do that – I expand my happiness and add to the joy of others.

Life is full of unexpected wonder…
I'm curious and love new experiences.  Who knew it could be so exhilarating and fun to stick my head out the window of a moving car?  Now it's a special treat! (Weather and safety permitting, of course.)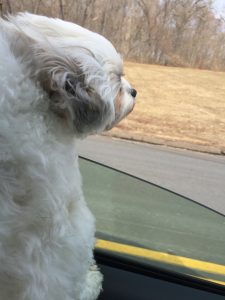 I love to hear the delight in my Mom's voice when she says, "the White Baron rides!" 
The motto I live by: Be bold and explore the wonder in each day!
"Set wide the window. Let me drink the day."~Edith Wharton, "Vesalius in Zante (1564)"
Invest in your future (self)…
Truth be told, I don't know much about money.  What I do know is… every time we use the bank's drive-up window something surprising happens!  

(And, it's not the invisible drawer that magically appears out of the building to take our deposit.)
A teller transformation takes place right before my very eyes.  Every time!  The teller's energy instantly transforms from solemn and serious to bubbly and smiley. Now that's something to count on… it's priceless!
Work is play and play is work…
Most weekday mornings you'll find me as the official greeter at my Mom's office. First time patients are pleasantly surprised to see the likes of me waiting by the door with open paws.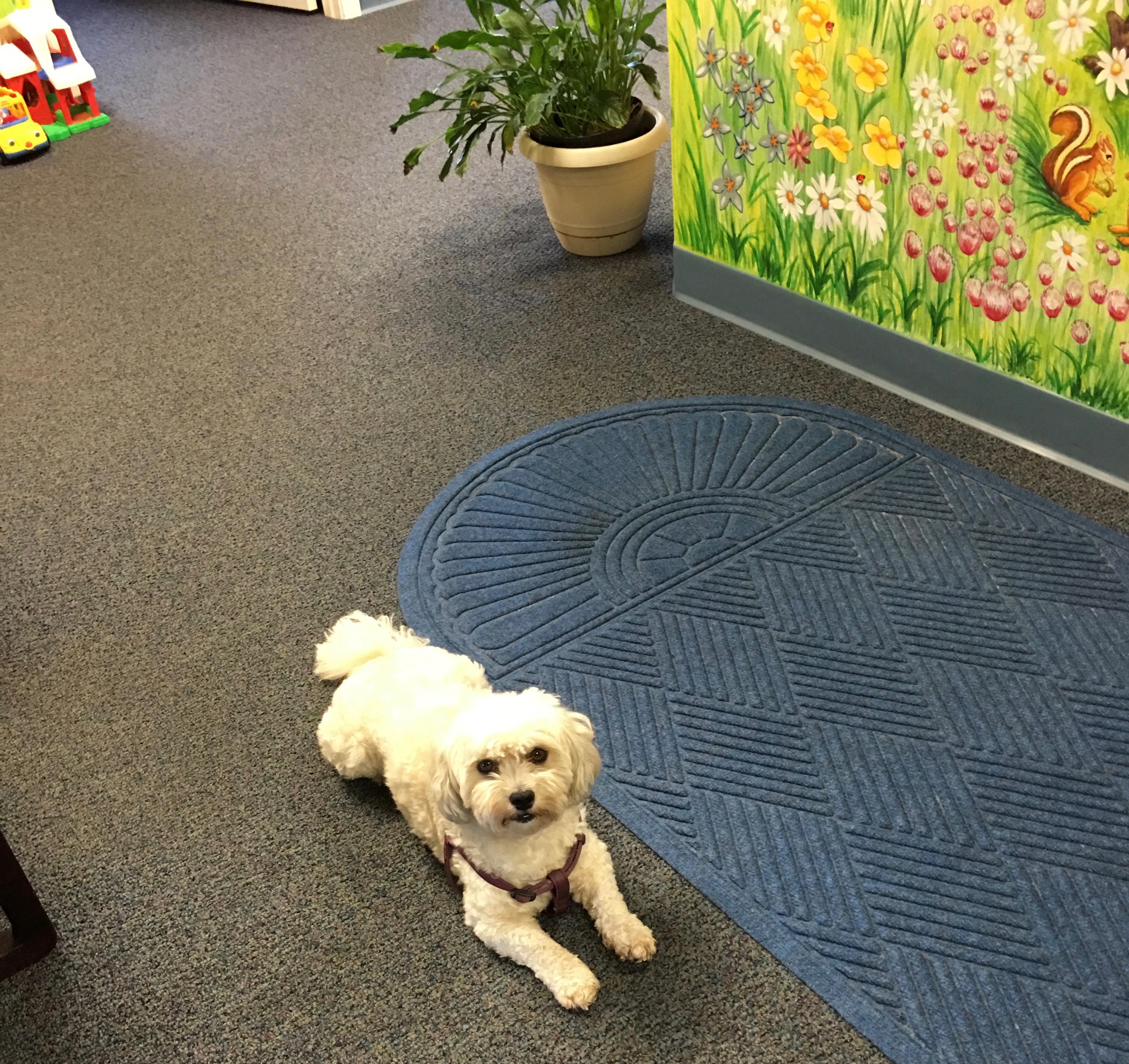 Recently I discovered my life purpose, my calling. Yes, dogs have a calling, too. And, I can wholeheartedly say – I love who I am while I'm working and playing at the office.
When I'm in my genius zone, I have this gift…a sixth sense that knows when someone needs – what my Grandma calls – "Lily love."
Lifting a patient's spirit and seeing their eyes brighten is my thing. It's really quite magical and usually happens in one of two ways…I dance or hop on my back paws (it happens quite naturally) or 2. I simply snuggle quietly near the patient's feet. It perks up the patient and they seem to feel better even before entering the treatment room.
Most mornings I play so hard (at work) that by early afternoon, I'm ready to head home, chill and catch a few zzzz's in a comfy spot by the couch.
Life is real good!
Chillax…
My Mom insists we take vacation days to unwind, probably because we both work so hard!  I can hardly wait!!! Only a few more days and we get to chill and relax at our favorite family vacation spot by the ocean.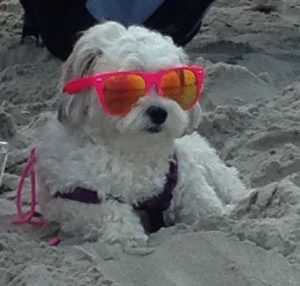 Reading on the beach has never been my thing. I do however love sitting in the sand listening to the waves roll in and out. It's my form of mindfulness practice and I usually fall fast asleep.
Oh, Mom's calling. Gotta run, we're going shopping. Wonder if I'm getting new sunglasses this year?  These are still fashionable even though they're a few seasons old.
I almost forgot…does anyone know the dates for the next regional spelling bee contest?
I want to surprise Mom and enter her as a contestant.  She's been practicing two words for years.  She's definitely ready. She's got "W A L K" and "P A R K" down perfectly!
Mums the word about the spelling contest! I'll grab my leash…you keep your fingers crossed Mom wins!
One more thing…
If you have a favorite "life insight" you've received from your pet – or you enjoyed the post, I'd love to hear it!  Please share in the section below. (Maybe Aunt MaryAnn will have me back again.)   Love, Lily
_______________________
MaryAnn D'Ambrosio, MBA, PhD is a speaker, author, coach and creator of Flashcards for the Soul™. MaryAnn's passion is working with individuals, groups and companies who are ready to "leap" and accelerate results by awakening the internal factors that transform ideas, vision, and projects into inspired action. 
We each have a unique calling.  Just like your DNA and fingerprint your life purpose is unique to you and it's always evolving.  There's a fun, easy and quick way to discover where you are on your path.  Take the Life Path Quiz today!