It's Happening Again…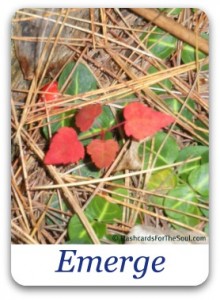 The past several weeks have been ordinary in an extra-ordinary way.  I feel happier and more excited about everyday kind of things…exercising, preparing new dinner recipes, the direction of my business and enjoying TV as well as relaxing in the evening with a good book.  All very ordinary kind of things.  
Yet, there is something else going on.  A new me is growing and emerging. (Reminds me of one of my Flashcards for the Soul (TM) – each tiny red leaf in this Emerge image was smaller than my pinkie fingernail and  yet the leaves emerge through a thick layer of pine needles.)
As for the new me, I'm breaking through, growing and magnetizing exciting opportunities, again – much like a seven-year stretch between 1999-2006.  During the seven years it was a common occurrence to quickly attract exhilarating opportunities, projects, and leisurely travel.  Then, the synchronicities slowed down.
It's wonderful to be finally happening again and I've reflected on the why.
Perhaps it's because…I'm choosing to meditate more often
Perhaps it's because…I'm letting go and getting out of my own way

 

 

Perhaps it's because…I'm clearer on who I am, what I want to do, and how I want to share my gifts and talents
Perhaps it's because…I'm having more fun and ready to lead, leap, and inspire
Perhaps it's time for another new beginning!
How are things going for you? 
Are you longing for a new beginning that's more aligned with the authentic you…the part of you who would love to create an exciting business and life? 
Take time to discover what your heart desires.
  To energetically
help you with that, check out the special poem below.
Who knows, soon you too may be saying, "It's Finally Happening!
Recently, my friend Catherine Ewing hosted a Passion Retreat and shared a wonderful poem with us. The poem, A New Beginning by author and poet John O'Donohue deeply moved me. I'm sharing it with you as creative juice to inspire you to leap without limits.  Enjoy!
 Here We Grow Again…It's Finally Happening!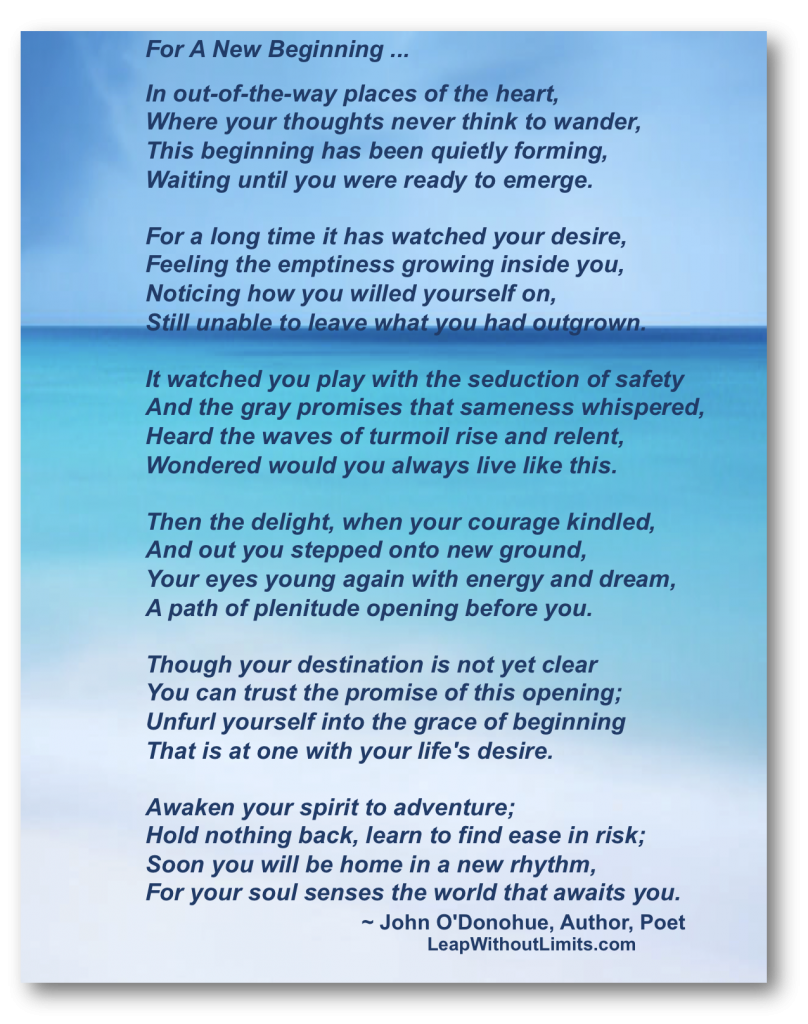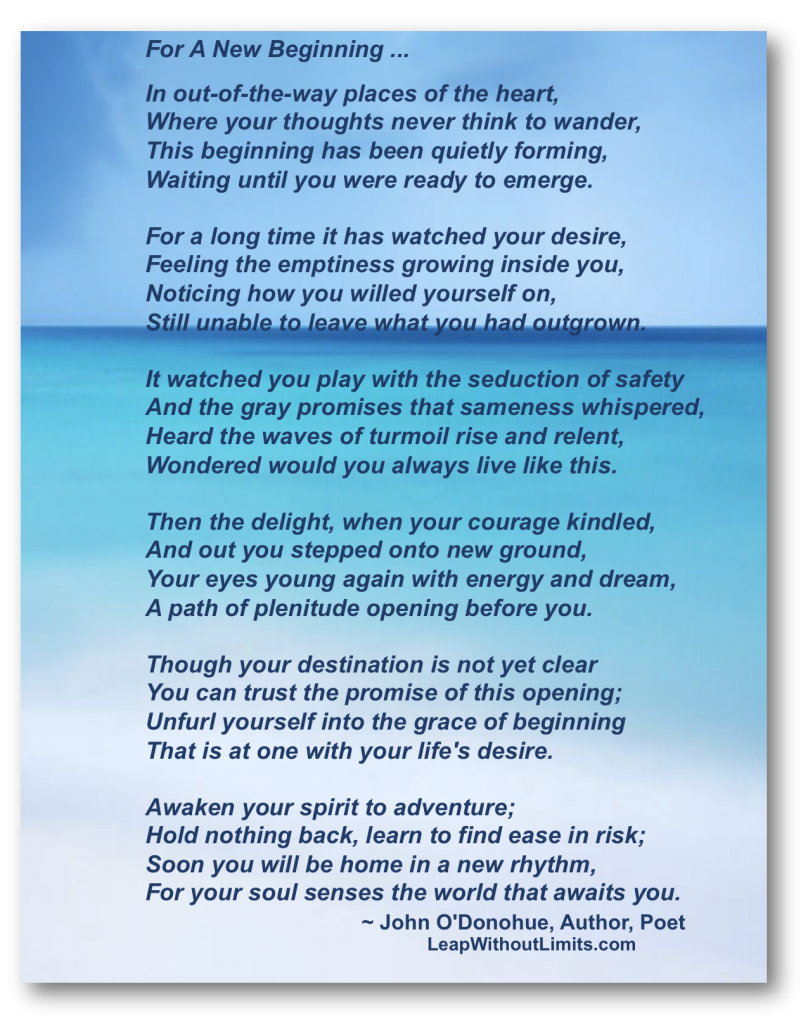 After reading the poem, let me know in the comment box below the new beginning that has sparked for you.
______________________________________
MaryAnn D'Ambrosio, MBA, PhD is a speaker, author, coach and creator of Flashcards for the Soul™. MaryAnn's passion is to work with individuals, groups and companies who are ready to "leap" and accelerate results by transforming ideas, vision, and projects into inspired action to experience a more vibrant, dynamic on-purpose business and life.  If you've been merely surviving instead of thriving, be sure to pick-up your F*R*E*E Overcome Overwhelm Toolkit at: LeapWithoutLimits.com