A special Leap Without Limits thank you to . . .

Strategic Partner, Caterina Rando for providing
a free Special Report, Be A Compelling Speaker 
Caterina Rando, founder of The Sought-After Speaker Summit and The Business Breakthrough Summit is the go to expert for being a Thriving Sought After Speaker.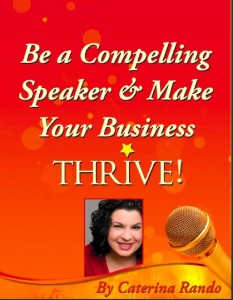 "As someone who saw the value of growing my business using public speaking, I attended Caterina Rando's Sought After Speaker Summit. Thanks to what I learned and the experience, I prepared my first ever speaker proposal for a large conference and was accepted to present. Since attending I am givng more speeches then ever before.  I highly recommend the Sought After Speaker Summit for both new and seasoned speakers."  ~MaryAnn D'Ambrosio, LeapWithoutLimits.com
To receive your free Be a Compelling Speaker Special Report, simply right-click on the download link below, and use the "Save As" feature of your browser to save the file to your computer.  Enjoy!!
[wpdm_file id=2]